| ERANOS SCHOOL 2021 |
ESC2021-1
Rebirth to New Life. Two Lessons at Eranos: Jung and Buonaiuti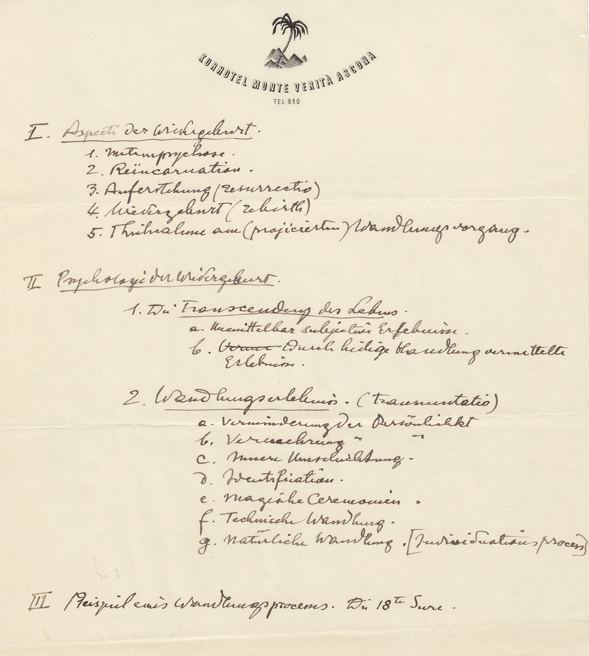 The Eranos Foundation is pleased to invite you to a study meeting, on Friday, March 26, 2021, from 6:30pm to 8:30pm, which will be held in distance mode (Zoom), on the theme "Rebirth to New Life. Two Lessons at Eranos: Jung and Buonaiuti", on the occasion of the presentation of the first two volumes of the "Eranos Classics" series, released by the publishing house Aragno*Eranos Ascona. The first essay, Rebirth, includes the text of the lecture given by psychologist Carl Gustav Jung (1875-1961) at the 1939 Eranos Conference: a paper, edited by Fabio Merlini and Riccardo Bernardini in agreement with the Foundation of the Works of C. G. Jung, previously unpublished in its original version. The second essay, Palingenesis, Resurrection, and Immortality in Primitive Christianity, presents instead the original text of the conference given by priest and historian of Christianity Ernesto Buonaiuti (1881-1946) at Eranos in 1939: a document, edited by Adriano Fabris, previously unpublished in Italian and in English. The two books, from different points of view, question the phenomenon of the transformation of the individual: an issue that crosses history and cultures and that also affects moments of disorientation such as the current one, in which the crisis situation intervenes to question the 'rules of the game.' What does it mean, then, to face a process of transformation? In what sense, today, can we speak of rebirth?
These and other questions will be addressed by Adriano Fabris, Full Professor of Moral Philosophy at the University of Pisa; Gianfranco Bonola, former Full Professor of History of Religions at the University of Roma Tre; Fabio Merlini, President of the Eranos Foundation; and Riccardo Bernardini, Scientific Secretary of the Eranos Foundation.
Participation is free of charge. Registration is appreciated.
The recording of the conference can be viewed on the official YouTube channel of the Eranos Foundation.
We also make available the interview to Riccardo Bernardini and Fabio Merlini, by Michela Bolzani, on the occasion of the publication of the essay by Carl Gustav Jung, Rebirth. Text and Notes of the Lecture held at Eranos in 1939 (Ascona: Aragno*Eranos Ascona, 2021), during the radio broadcast "Geronimo" of RSI Rete Due on April 13, 2021.
---